We've got big Bears. Every season our Hunters take Black Bears over 7 feet (Skull measurements scoring 19.5 inches and over). The Omineca Record Bear, so far, measured 7 feet 5 inches (nose to tail). That's 2.26 meters of Bear (in metric). Most of our Hunters take Blacks between 5 and 7 feet.

About 15% of our Black Bears are brown or colour phase. Colour phase Black Bears often called "cinnamon", range in colour from blonde to dark copper. The image (bottom right) shows the range of colour in "Black Bears". All four were taken during one spring hunt.

Whether hunting Black Bear in the Spring or in the Fall it's average to see about 5 Bears a day. In the Spring, we spot and stalk old logging cuts and bush trails where new dandelion and clover grow. In the early Fall, the Bears are drawn to the variety of berries that ripen on open hillsides.

Average Rifle shot distance: 100 yards, 20 yards for Bow. We have some very successful techniques for stalking up close. For several years now, our success rate for Black Bear has been over 100%. While on the Bear hunt, there's always the chance to come across Wolves. So getting a Wolf tag is a good idea. You can pre-book a second Bear or add a second Bear once you're here.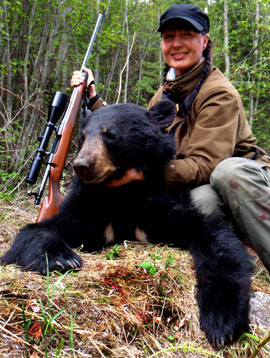 Contact Us
for Details and Booking
info@omineca.bc.ca